The Sandman Will Keep You Awake - The Loop
Play Sound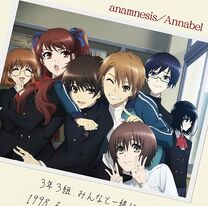 Anamnesis is the first ending song for the Another anime series. It is sung by Annabel.
Lyrics
TV Version
"Anamnesis"
Just as the colors fade from the old film


The things I feel from the present fade from memory, sooner or later


As well the short-lived times of happiness and innocence we enjoyed


I believe the memories we have in common


Harbor the potential for finding love again deep within


Even now I believe that...
"Anamnesis"
Iroaseteiku firumu no you ni

Tashika na ima mo izure kasunde

Nande mo naku waraiatta

Setsuna no jikan to hikari

Tsunagatte iku kioku no soko ni

Dareka ga mitsukeru tame aru to

Shinjiteiru imademo
Full Version
Iroaseteiku FIRUMU no you ni
Tashika na ima mo izure kasunde

Nande mo naku waraiatta
Setsuna no jikan to hikari

Tsunagatte yuku kioku no soko ni
Dareka ga mitsukeru tame aru to
Shinjiteiru imademo

"Naze kokoro wa naze itamu no"
Mune no katasumi fuan kakaete

Ikiru koto wo osore nagara
Muimi ni toikake tsuzuketa

Ushinatte yuku kioku no naka de
Dareka ni sukui wo motometeiru
Kimi no koe
Boku wa tsukamu
Chiisakute mo kikoenakute mo
Kimi no tame sukui ageru kara

Meguriai mata toozakaru hibi
Ima mo azayaka na hikari tomosu

Nani mo kamo nakushita yoru mo
Bokura dake ga shiru ano basho e
Itsudatte kaerou
色褪せていくフィルムのように
確かな現在(いま)もいずれ霞んで

何でもなく 笑いあった
刹那の時間と光

繋がっていく記憶の底に
誰かが見つけるためあると
信じている 今でも

"なぜ 心は なぜ 傷むの"
胸の片隅 不安抱えて

生きることを恐れながら
無意味に問いかけ続けた

失っていく記憶の中で
誰かに救いを求めている
君の声
僕は掴む
小さくても 聞こえなくても
君のため掬いあげるから

巡り合いまた遠ざかる日々
今も鮮やかな光灯す

何もかも失くした夜も
僕らだけが知るあの場所へ
いつだって 還ろう
Like how the colours fade from film
the present will also certainly fade from memory

The times when we were laughing
will become painful with time

The memories I have led me here
in order to find you again
I still believe, even now

Why does my heart... why does it hurt so much?
In the corner of my heart, anxiety exists

Living can be so fearful
when you continue to question its meaning

Lost within my memories
I'm pleading for someone to save me
Your voice
If I listen to it
Even if it's so quiet that I can't hear it
for your sake, I'll listen out for you

We'll meet once again another day
now that the bright light shines

Everything I lost that night
is in a place that just the two of us
can always return to
Video