Another


Basic Information
Name
Another
Author
Yukito Ayatsuji
Artist
Hiro Kiyohara
Genre
Mystery, Seinen, Horror, Psychological, Tragedy
Original Run
May 2010 – January 2012
Status
Finished
Published by
Kadokawa Shoten
Magazine
Young Ace
Based on
Another Novel
A manga adaptation illustrated by Hiro Kiyohara was serialized between May 2010 and January 2012 issues of Kadokawa Shoten's Young Ace magazine. The manga was finished in 2011, while volume 4 was released in January 2012. The fan translation group for this manga is Kawaii Corner; the official English version was released as a trade paperback by Yen Press.
Differences between manga and anime
1. The styles are very different. While in the manga the characters design is soft and clean, in the anime the chief animation director based the character design used in the anime on Noizi Ito's original concept.
2. In the manga Teshigawara often hangs around Kazami, not Mochizuki. Also, many of the actions given to Akazawa in the anime were his in the manga (such as shaking Kouichi's hand at the hospital). Also, in the manga Kazami doesn't die and doesn't turn out to be insane.
3. Akazawa is less friendly and more actively hostile toward Mei, and for different reasons. She tried to kill Mei, stabbing her left eye, but due to her own paranoia, rather than to avenge Sugiura. A moment later, a cupboard fell on her, and she was rescued by Tatsuji Chibiki afterward. Even if she doesn't die, she cuts her hair shortly.
4. Katsumi Matsunaga never met the group, but only Tomoka Inose. Kouichi, Mochizuki, and Teshigawara found out where is the tape from his conversation with Tomoka. Mei is not present at this meeting and does not help search for the tape when Kouichi tells her about it. They never went to the beach.
5. In the manga, Maejima, Sugiura, Yonemura, Nakao died in the fire at the inn. Yumi Ogura is not present (or at least not named) in this adaption.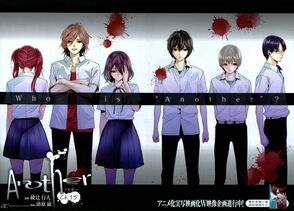 6. In the manga, the relationship between Reiko and her eldest sister, Ritsuko, is more pronounced and also closer than in the anime. In the first chapter of Another 0, she is seen standing at her memento and talking to her.
7. In the manga, Teshigawara's feelings for Akazawa are more pronounced than in the anime. For example, when Akazawa cut her hair shorter, Teshigawara made her a compliment and then blushed.
8. Ikuo Takabayashi never appeared in the manga, he is only mentioned. Also, Aya Ayano and Makoto Ouji are anime-only characters. They never appeared in the manga.
9. Akazawa never met Kouichi a year and half ago.
10. In the manga, Mei's past is more detailed. Mei said that when she was a child, she caught her "mother" crying, asking why. Also, she wanted to donate one of her kidney to Misaki, but she couldn't because the rules said that children below 15 years of age are not allowed to, so instead the donor was Mitsuyo. This information was never revealed in the anime.
11. Mei doesn't have a vacation house near the beach in the manga; in fact, the beach is never visited.
12. Reiko's past revealed in Another 0, it isn't revealed in the anime.
13. Takeru Mizuno went in the class trip in the manga.
14. In the manga, it wasn't Wakui who suddenly fell sick during dinner, but Kouichi. When Akazawa and Mei were arguing. Akazawa blamed Mei and Kouichi for all that had happened. When Kouichi tried to protect Mei, he suddenly collapsed. Takeru helped Kouichi to his room at the Inn, showing he'd forgiven Kouichi for his role in his sister's death.
15. Ogura briefly appears only in Chapter 12 of manga and talks with Mei much to Kouichi's surprise. Ogura didn't attend the trip and her role in anime in which she tried to kill Mei isn't present. Ogura survives the curse in the manga.
List of Deaths in the manga
1972
1973/Sixteen Deaths
Six students and their family members.
1983/Seven Deaths
Ryoko Akiyama - Died from an accident on her way home from school.
Kurita - Stopped breathing.
Unknown female student - Committed suicide by jumping off the school roof.
Ritsuko Sakakibara - Died shortly after Kouichi's birth.
Jun Hamaguchi - Struck by lightning during the class trip on 10th August.
Yuki Hoshikawa - Died by falling off the cliff during the class trip on 10th August.
Extra: Male student.
1987
Chartered bus collided with cargo van.
1993
Mami Asakura — Died of illness on 9th October.
1997/Eight Deaths
Sakuma - He commited suicide in October.
Reiko Mikami — Unknown, body found in river in October.
Extra: Jia's brother
1998/Twelve Deaths
Extra: Reiko Mikami
Manga-only Characters
Yousuke Sakakibara - He regularly calls Kouichi, but his face never appears in the anime.
Mieko Sakuragi - Sakuragi's mother. Her photo appears next to Sakuragi's at their funerals. In the anime, she is only mentioned but never shown.
Kazuma Akazawa - Akazawa's older brother. He was mentally unstable and committed suicide in the manga. He never appeared in the anime, he is just mentioned.
Mitsuyo Fujioka - Mei's and Misaki's mother. She never appeared in the anime, she is mentioned by Mei in episode 10 and by Misaki in the OVA.
Ryoko Akiyama - Reiko's best friend from the time when she was in 9th Grade Class 3 in 1983. She dies in an accident because of the curse. She never appears in the anime.
Tachibana - A 16 years old girl who was in 9 th grade class 3 in 1997. Also, the art club senpai, Tachibana gives Mei details about their non-existent student.
Sakuma- He was the non-existent student of the 9th grade class 3 in 1997. However, he committed suicide when the new year started because of the rejection.
Another Manga Volume Cover
1
1
Release date: September 30, 2010
ISBN: 978-0316245913
Cover character(s):

Chapters list:
Chapter One

Chapter Two

Chapter Three

Chapter Four
2
2
Release date: March 2, 2011
ISBN: 978-4-04-715628-9
Cover character(s):

Chapters list:
Chapter Five

Chapter Six

Chapter Seven

Chapter Eight

Chapter Nine

Interlude
3
3
Release date: September 1, 2011
ISBN: 978-4-04-715772-9
Cover character(s):

Chapters list:
Chapter Ten

Chapter Eleven

Chapter Twelve

Chapter Thirteen

Chapter Fourteen
4
4
Release date: December 27, 2011
ISBN: 978-4-04-120044-5
Cover character(s):

Chapters list:
Chapter Fifteen

Chapter Sixteen

Chapter Seventeen

Chapter Eighteen

Chapter Nineteen

Final Chapter
0
0
Release date: May 26, 2012
ISBN: 978-4-04-900816-6
Cover character(s):

Chapters list:
TBA