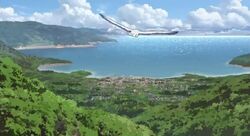 The Beach is one of the locations from Another which was first seen in episode 8, when the group ( Kouichi, Yuuya, Naoya, Izumi, Junta and Takako ) were looking for Matsunaga, who works at a hotel around the beach. Finishing their searching without a result, they went to the beach until further notice of Matsunaga. The group swam, played with the ball, ate watermelon and had fun. In the end, here, Junta Nakao died.
Trivia
The Beach is an anime-only location.
Mei has a vacation house around the beach.
Gallery