Welcome to Another Wiki!
Please help us by editing or by creating pages!
This wikia contains 154 pages and 1,630 uploaded files since December 17, 2011.
WARNING: This wiki is full of spoilers! Read at your own risk.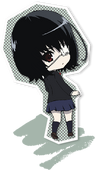 Synopsis:
In 1972, a very popular honor student named Misaki died partway through the school year in Yomiyama North Middle School's class 3-3. The rest of the students, devastated by the unexpected loss, decided to carry on as if their classmate were still alive, going so far as to keep the desk in place and bringing it to the graduation ceremony. Yet no one could explain why their classmate, already dead and buried, was present on the graduation photo.Then, in the spring of 1998, a boy named Kouichi Sakakibara transfers to the class, and begins to grow suspicious of the fearful atmosphere permeating the class. In particular, he becomes fascinated with a mysterious, aloof girl with an eye patch who always sits alone, drawing pictures. A girl the rest of the class refuses to acknowledge. A girl named Misaki.

Another is an anime based upon the Novel and Manga of the same name by Yukito Ayatsuji. There also exists a live action movie based on the novel.
Latest Episode
Episode 0 (OVA)-The Other -Karma-
Fourteen year-old Mei Misaki secretly meets with her twin sister, Misaki Fujioka. With her mother away, Mei invites Misaki to spend the night at her house. As Misaki sleeps that night, Mei starts to see the color of death on her through her doll's eye. As such, she starts to become very protective of her whilst going to an amusement park the next day. Whilst riding a ferris wheel, a bird causes Misaki to fall out of her carriage, but thankfully the carriage was low enough that she wasn't in danger. However, as they part ways, Misaki suddenly collapses, later being admitted into hospital and dying from leukemia. As Mei goes to give her final farewells to Misaki, she has her first meeting with Kouichi. Read More...
Featured Character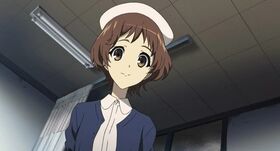 Sanae Mizuno was a nurse at Yomiyama Hospital. She was a cheerful, friendly, sociable and peaceful person. Sanae was in charge of taking care of Kouichi when he was in the hospital. Also, she suggested various mystery authors to Kouichi to read. She was in good terms with Kouichi, as they used to meet casually.

Click for more on this Character...
Vote for the next featured Article.

Another News
Character Book "Another 1998 Graduation Memories" official!
Expected to release on June 29, Character Book official recalls board and art scene, with beautiful illustrations of every day in 1998! Includes the pinup-sided gorgeous painted a new scene of illusion and grated draw cover by Noizi Itou. More details on Official Site (Japanese).
Another Soundtrack CD
Published by Kadokawa Shoten and composed by Kow Otani, Another Soundtrack CD will release on July 27, 2012. Catalog Number: KABA-10064-CD; Price: 6930 JPY (Package Price)
Did you know?
The novel was ranked as the number-three novel by Kono Mystery ga Sugoi! 2010 and 2010 Honkaku Mystery Best 10, annual mystery fiction guide books published in Japan!
Noizi Itou, the original character designer of Another is also the original character designer of Shakugan no Shana, The Melancholy of Haruhi Suzumiya and The Disappearance of Haruhi Suzumiya.
that Izumi Akazawa has a brother named Kazuma Akazawa?
that the characters Junta Nakao, Takako Sugiura, Manabu Maejima, Shigeki Yonemura and Atsushi Ogura's deaths differs per adaption?

Also, Atsushi is the only one of them to:

Not be in Class 3 of 1998.
Not die in the inn, either killed by Keiko Numata (novel) or die in the fire at the Inn (manga).

Also, none of them appear in the live-action film. However, there's a character with some similarities with Takako.
Links