The Sandman Will Keep You Awake - The Loop
Play Sound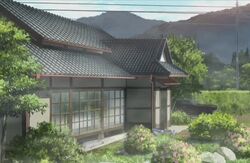 The Sakakibara Family House is the place where originally Kouichi's grandparents, Tamie and Ryouhei, and his aunt, Reiko, lived. Before giving birth to Kouichi, Ritsuko came back in Yomiyama from Tokyo and had been living there for a small period of time. When Yousuke went to India to work, Kouichi came in Yomiyama to live with his grandparents.
Trivia
In the novel, Mei visits Kouichi's house before the school trip, most likely to confirm who the "Dead One" is and perhaps to get a glimpse of Reiko. It is at his house that they looked at his mother's old pictures, including the "ghost photo" with Misaki Yomiyama
Also, Mochizuki visits Kouichi's house to tell him to put up with whatever may happen. Later, Kouichi realizes that the main reason Mochizuki came was to see if Ms. Mikami was ok, due to his crush on her.
Gallery