The Sandman Will Keep You Awake - The Loop
Play Sound
Tomoka Inose


Kanji
猪瀬知香
Romaji
Inose Tomoka
Personal Information
Born
around 1968
Age
20+
Gender
Female
Height
168 cm
Eye Color
Green
Hair Color
Brown
Occupation
Waitress
Family
Yuuya Mochizuki (Younger half-brother)
Inose (husband; mentioned only)
Mother (Age 60 Deceased)
Father (shared with Yuuya)
Status
Alive
First appearance
Manga
Chapter 13
Anime
Episode 7
Voice Actors
Japanese
Mahiro Inoue
English
Maggie Flecknoe
Tomoka Inose is a waitress at Inoya cafe. She attended Yomiyama North Middle School during 1983.
Personality
She is shown as a mature and responsible person but also a good and kind half-sister.
Appearance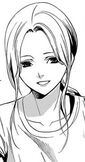 Tomoka has long brown hair, usually caught in a neglected ponytail, and green eyes. She wears a white shirt with a black tie and a red vest and a black skirt, presumably the cafe's uniform. In the manga, she has white long hair tied in a ponytail and black eyes. As casual clothes, she wears a white T-shirt. The cafe's uniform consists of a white shirt with a black vest.
Plot
Tomoka made her debut in episode 7 as a waitress at Inoya Cafe. It is revealed that she is Yūya's older half-sister. She attended Yomiyama North Middle School during 1983. Although aware of the rumors about class 3-3, Tomoka didn't believe them until her brother who was fearing for his life, explained the situation to her. Katsumi Matsunaga is a regular customer at the cafe where she works. Tomoka helps Kouichi, Yuuya, Naoya and Izumi to solve the mystery of the 9th grade class 3 and stop the calamity, giving them details from her conversations with Katsumi, the one who stopped the calamity.
Trivia
Her first name, Tomoka, means caramel delight.
Tomoka's husband owns the Inose Cafe, which is where its name comes from.
In the original novel, the group doesn't meet Katsumi face-to-face, but learn about the object in the old 3-3 classroom through talking to Tomoka. Her role is also more significant in the manga, as she gives the group information about the curse, not Katsumi.
She and Kazue Satou are first equal in being the tallest female characters in the series with a height of 168cm.
Gallery